November 2, 2021

Jim James

1
The Internet of Behavior extends from the Internet of Things (IoT), the interconnection of devices that results in a vast variety of new data sources. This data might be specific to you as a customer—data you've provided through a company's app. But, more often, companies are gathering non-customer information by "sharing" across connected devices.
Devices like a smart phone, can track your online movements as well as your real-life geographic position. It's not difficult for companies to link your smart phone with your laptop, your in-home voice assistant, your house or car cameras, and maybe your cell phone. Suddenly, companies can know a lot more about you—your interests, dislikes, the way you vote, and the way you purchase. Organizations can test the effectiveness of their campaigns, both commercial and non-profit.
Health providers can measure the activation and engagement efforts of patients. Policymakers could even personalize content, affecting laws and current programs. The IoT's power is its scale, which is already enormous. By 2025, they predict 30.9 billion devices will be part of the IoT.
WHAT IS INTERNET OF BEHAVIOUR (IOB)?
IOB stands for Internet of Behaviors, and it is an extension of the Internet of Things (IoT). IOB uses collected data from the customers to influence behaviors. The collected user data is analyzed with respect to behavioral psychology. IOB connects technology and the user's action and behavior towards it and interprets the reaction. The core idea behind the Internet of Behaviors is to provide means to code, register, share, and address an individual's behaviors to a pre-defined scenario.
It is a combination of three areas as below:
Data Analytics
Technology
Behavioral Psychology
Behavioral psychology can further be broken down into four fields: companionship, decisions, emotions, and augmentations. Behavioral psychology and analysis have granted new insights into the collected data by IoT. IOB can collect, integrate and process data from many sources including Commercial user data, Government agencies, Public domain, Social media, Citizen data processed by the public sector.
IOB privacy & security concerns
The IOB itself isn't inherently problematic; a lot of people like having their devices synced and get benefits and convenience from this setup. Instead, the concern is how we gather, navigate, and use the data, particularly at scale. And we're starting to understand this problem. The security and privacy consequences are complicated, and data security is a growing concern. More Americans admit that considering the security ramifications might slow their adoption and use of certain devices.The IOB does not gather data solely from your relationship with a single company. For instance, a hospital/insurance can look at a summary of their patient history. As a society, we've decided this is not fair.This presents significant security and legal risks, and there is little legal protection in place for these concerns.
The benefits and drawbacks of IOB are as follows:
Benefits of IOB:
Analyze the purchasing habits of the customer across all platforms.
Study previously unreachable data on how customers interact with devices and products.
Gather more detailed information about where a customer is in the buying process.
Grant notifications of real-time point-of-sale and target advertisements.
Resolve the issues quickly to close sales and keep the users satisfied.
Organizations will be able to generate more touch-points for a positive interaction with users.
Organizations will also be able to find new methods to interact with users so that they can connect with the organization at an earlier stage than at the time of purchase.
An analysis of customer behavior on social networks and other platforms about their daily lifestyle can be done with IOB.
Companies can track their employees' behaviors and work towards a better employer-employee relationship with the assistance of IOB.
Drawbacks of IOB
All the consumer-related sensitive information stored in the IOB integrated devices are at stake and are vulnerable to unwanted access.
Any organization wanting to integrate with IOB need to ensure they have strong architecture and are aware of its liability.
Security issues with IOB
Considering the different platforms and sources from where data is collected, analyzed and stored, controlling its access level becomes extremely difficult. While the big companies like Google, Amazon and Facebook store user data such as browser history, preferences, cookies and even location data. The companies use these entities to provide personalized content and target advertisements. All this data is supposed to be confidential, but data leaks are daily news.
The leaked data can be used for different unethical and illegal work, which can have significant effects on commoners everyday life since they can now be targeted with certain opinions, thoughts or products which they might never need but if blasted with multiple times, can change views in favor of a particular organization, product or ideology. Different political parties, hackers, or even researchers can use the targeted advertisements of opinions to influence people wrongly.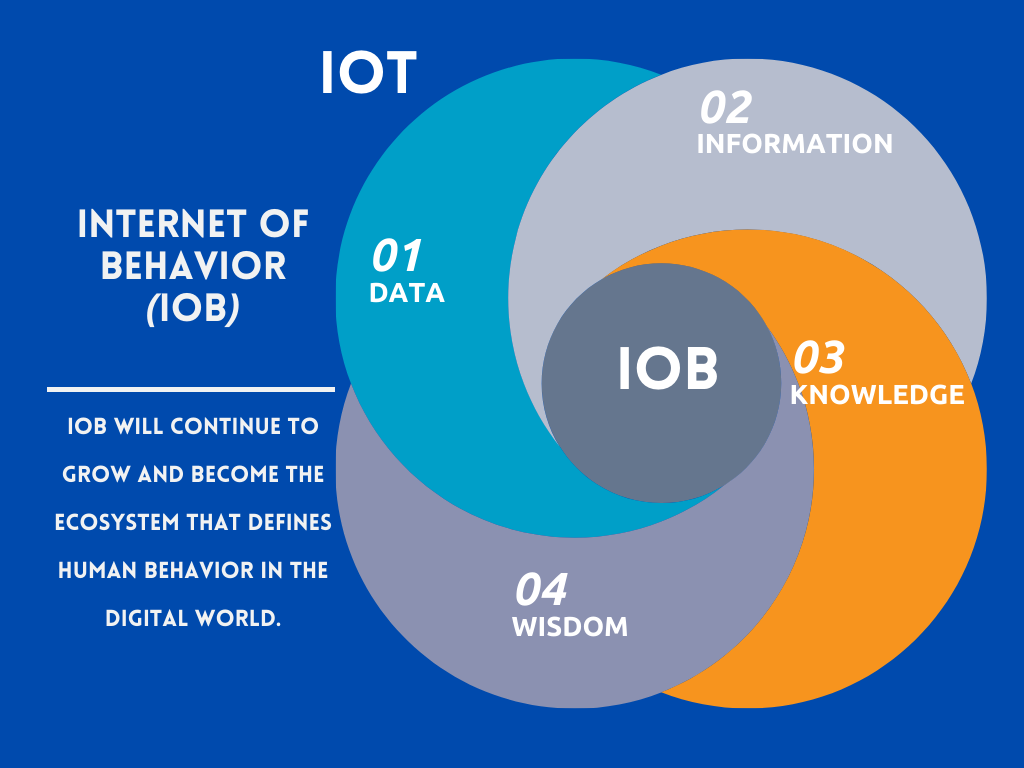 Case Studies of IOB Application as follows:
Netflix –
Netflix uses user insights to forecast what they might like or dislike. It puts on recommendations as per the interests and ratings of the users on a specific movie or series. Now imagine if they do not need your past data to recommend you what to watch next and simply pick up your behavioral data and interpret your interests. This will add to a better user experience and take things to the next level.
Insurance sector –
Insurance companies can analyze the behavior and interpret if a particular incident was an accident or an insured's miscalculated guess. This can prevent drunk driving cases, driving under the drug influence cases, or even prevent underage or senior citizens from driving that may cause an accident.
Covid-19 pandemic –
With the help of RFID tags or sensors, employers could determine if there are any discrepancies in following the safety protocols. Several restaurants and food delivery apps use information about the protocols and then carry forward their plans.
Social media platforms –
Various organizations are now using online advertising as a way to reach their users. Several social media platforms like Facebook use behavioral data to showcase advertisements to users on their platforms. This allows brands to connect with their consumers and track their behavior towards that advertisement through "click rates".
TOP-7 TRENDS OF IOB TO LOOK OUT FOR THE YEAR 2022
IOB IN PLANNING OF PRODUCTS, SERVICES AND MARKETING
IOB IN BUSINESS
IOB TO REVIEW PAST AND FUTURE
IOB TO UNDERSTAND CONSUMER LIFESTYLE
IOB IN INSURANCE INDUSTRY
IOB DURING THE COVID-19 CRISIS
IOB IN MARKET RESEARCH