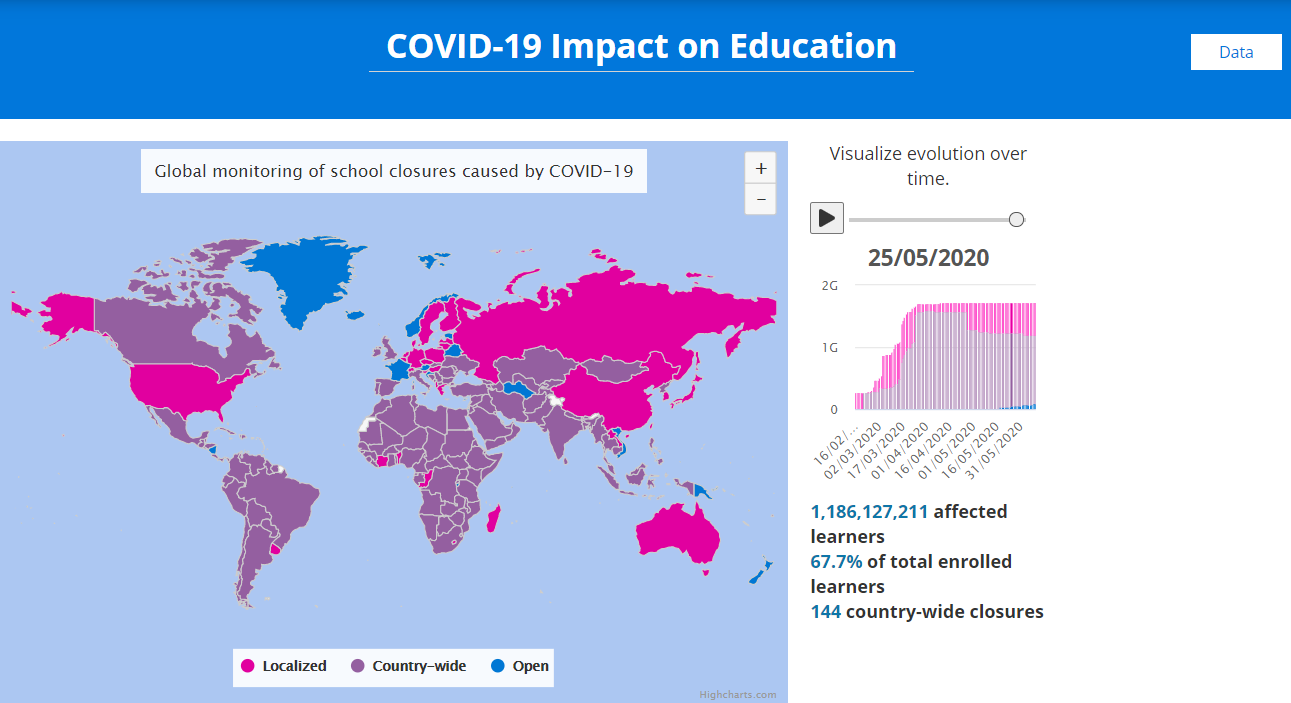 January 8, 2021

Elvy Lopez

2
Covid-19 fast-tracked the e-learning and online education industry. During this pandemic, 190 countries have enforced nationwide school closures at some point; affecting almost 1.6 billion children globally could not use their classrooms. If school closures are extended for too long, there is a significant potential for loss of educational opportunities, but also a potential loss of human capital and diminished economic opportunities in the long-term. Fortunately, the closing of schools did not entirely stop education, although it changed it. To reduce the impact of closures, schools have been looking for alternative ways to provide access to education. On the side of home schooling, students and children are currently, wherever possible, remotely educated all over the world, using technology such as online courses, video classes, and electronic textbooks.
UNESCO – COVID-19 Impact on Education
The United Nations Educational, Scientific and Cultural Organisation (UNESCO) is a United Nations agency that aims to build peace, fight poverty, and invest in sustainable development and intercultural dialogue through education, science, culture, communication, and information. UNESCO monitors the policy responses that are deployed to combat COVID-19 and their impact, such as school closures as shown in the image.(Screenshot of interactive dashboard created by UNESCO)
Transition to Digital Education
A survey conducted by UNESCO concluded that most education systems, of the 61 questioned countries, implemented measures related to distance learning. Schools, teachers, families, and learners have taken on e-learning at large, where teaching is undertaken remotely and on digital platforms. There are some exceptions, for example Sweden did not close their primary schools, and in e.g. Belgium and Norway a few school facilities remained partially open for children whose parents are working in essential sectors. Additionally, governments all over the world utilise technologies to provide remote learning opportunities for students while schools are closed, which are supported by the World Bank. A catalogue listing the measures taken per country is provided by the World Bank.
The use of digital content in education worldwide was relatively uncommon before the crisis started. Only 20% of countries had digital learning resources in teaching, but only in some schools. A mere 10 percent of countries had more robust digital learning capabilities offering some of the educational materials available outside of school. According to the World Bank, no country has a universal digital curriculum for teaching and learning. These numbers paint a picture of the efforts that governments and schools had to take to rapidly move to distance learning to ensure continuity of learning.
There is a major opportunity with schools, colleges, and even coaching centres conducting classes via videoconferencing. Many institutions have actually been recommended to pursue a portion of their curriculum online even after everything returns to normal. The concept of traditional education has changed radically within the last couple of years. Being physically present in a classroom isn't the only learning option anymore — not with the rise of the internet and new technologies, at least. Nowadays, you have access to a quality education whenever and wherever you want, as long as you have access to a computer. We are now entering a new era — the revolution of online education.
With online education courses fast mushrooming across the internet, more and more children and adults looking for skills advancement are turning to eLearning. It is also interesting to note that the major academic institutions of the world including the Harvard, Massachusetts Institute of Technology, Yale, and Stanford to name a few are now offering students the option of getting an education by signing up for online courses and earning the necessary credits. These courses are available free of cost or for a charge.
This factor holds true especially in the case of students in underdeveloped and third-world countries that can use the education to further their prospects of getting good jobs and living better lives. In this scenario, it remains to be seen if conventional education programs and institutions will continue to prevail in the modern world. Given a choice among eLearning, traditional training provided by expert instructors, and a blend of 2 systems, what will students prefer? Let's explore the options and find out.